ANDREW SHUGYO DAIJO BONNICI, PH.D.
Doctor Of Humanistic Depth Psychology
Master Zen Teacher And Counselor
As you conscientiously study and apply the teachings within my book, all your living, loving, and being will be enriched and enhanced far beyond your expectations. As your spirited, loving, and vibrant aliveness exceeds your expectations, you will continue to arrive as a totally fulfilled and successful human being just as you are.
Dr. Andrew Shugyo Bonnici 🌺🙏🏽🌎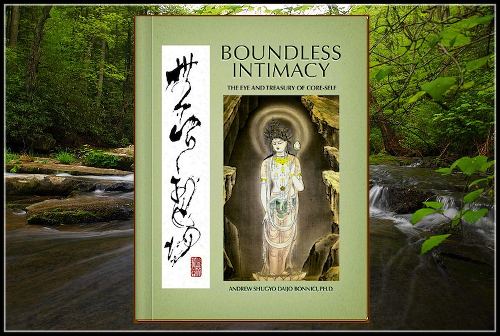 BEGINNER'S HEARTMIND
(Excerpt from Chapter 8 – "Beginner's Heartmind")
"Our beginner's heartmind is exactly our original heartmind of openness, simplicity, naturalness, and spontaneity. The effortless authenticity of beginner's heartmind is akin to the calming presence of ocean waves and mountain streams. The vital exuberance of beginner's heartmind mirrors the joyful wildness of spinning dolphins and the jubilant leaps of breaching whales. All the Ancients have proclaimed that beginner's heartmind is immeasurably deep, endlessly profound, and brilliantly playful beyond intending."
PEOPLE'S REVIEWS
Review By Mark Silverman
Transformational And Executive Life Coaching
An Amazon #1 Best Selling Author
Website: MarkjSilverman.Com

How do I review a "book" that I have been reading/experiencing for four months? I cannot even call "Boundless Intimacy" a book, but rather a "Journey." One mind-blowing, heart soaring section a day, I am living through some of the most profound (yet simple) teachings of my life. I read, I sit, repeat, day after day and nothing happens….yet everything is changing. All the Eckart Tolle, Michael Singer, Zen, Meditation, and New Age awesome [teachings] I have been absorbing all these years is alchemizing into something exquisite. I read, I journal, I sit….and I finally feel on the path. Thank you, Dr. Bonnici, for your unique voice that I can hear. I highly recommend you give yourself this gift.
Year Follow-Up Review By Mark Silverman
First time reading "Boundless Intimacy" by Dr. Bonnici was like a warm breeze of "aaahhh." Simple, stunning, truth. Ungraspable but present. Another year of practice, (failure, insight) and a second time through revealed an earthiness to life while seeking the divine. Now, in my third time going back to this well spring, little freedoms. Little shifts. Not a book to dabble in. A book and a practice to live into.
Review By Carina Chikyo Nickerson
Yoga Teacher, Meditation Life Counselor, Sacred Art Guide
Websites: CarinaNickerson.Com

I have been a student of Roshi's (Dr. Bonnici) for almost 15 years and have been fortunate to receive the teachings that have transformed my life. I'm so happy to recommend "Boundless Intimacy" as a path to greater wholeness, ease, and well-being. This amazing book contains within it the practices and teachings I have worked with for many years that have helped me transform my fear and live a life completely aligned with my purpose. I cannot recommend this book enough!
Click here to see a video review of "Boundless Intimacy" given by a highly successful peak performance business coach. In this video, he is speaking to an extraordinary group of business leaders, creative entrepreneurs, and dynamic innovators who regularly achieve the seemingly impossible and give-back to improve their communities on a regular basis.
     WORLDWIDE TESTIMONIALS ON DR. BONNICI'S TEACHINGS
"Your teachings….are like a flower lei of wonderful moments threaded together. You have opened doors, front and back, in our minds and hearts. I am personally enriched by your teachings and your friendship."      (Jeff Jouett, CEO, Dolphin Quest, California)
"My first impression is that a great work is being done [through your teachings]."  (Dr. Sigi Akbar , Lahore, Pakistan)
"Thank you for sharing your teachings. I feel more connected with my [core-]Self and have a greater sense of peace." (Jane Hartry Bristol, UK)
"Your teachings are a tremendous tribute to humanity." (Srinivas Palakkad, Kerala, India) 
"Thank you Dr. Bonnici for showing us how to deepen our connection within ourselves and with each other." (Dr. Rae Stone, D.V.M. Co-Owner of Dolphin Quest / Quest Global Management CA)
"You inspire me and many others. Thank you for your kind words, and assistance for a healthier and happier existence."  (Brandon Brown Bellevue, NE USA)
"I had a lot of difficulties in concentration and controlling my thoughts all my life until I practiced Zen meditation with the help of your deep psychological understanding and awareness. Keep up the good work of generosity and the sharing of yourself so faithfully and endlessly."  (Herman Boyek, Papua New Guinea)
"I am a psychotherapist who has found that much of what you describe is how I work and live. I feel joy in reading the ways in which you describe your work. I have had some frustration on how to put into words the understanding I have on the transformative nature of meditation and counseling. You assisted me in my need for that level of clarity. Thank you."  (Karen O'Connell, Santa Barbara, CA. USA)
"Thank you for your beautiful meditations. I have been teaching several healing modalities and your Way of meditation and beautiful words are always mentioned to my students. I am now relocating to Panama City, Panama and your thoughts will will be passed on. Thank you and blessings." (Jorge Brown, Panama City, Panama)
"I find your teachings so deeply encouraging and a great help to face my cancer battle." (Edwin R. Baquero, Kokomo, Indiana USA)
"I am 23 years old and I've been practicing for about 4 months now. I already see Great results. I know you've helped so many people out there by assisting them to open up their minds, and I pray that I can do the same throughout my life. Thanks and keep up the great work."  (Michael Englehart, Strongsville, OH USA)
"Dear Dr. Bonnici. I wanted to write something to say how wonderful your teachings are.  The have been a great help to handle many situations in my daily life. Thank you. with Love," (Maud Soennervik Maud Soennervik, Norway)
"Your teachings are very inspirational, as well as helpful. I am a teenager from the Washington, D.C. area, and I was turning to meditation to help clear my life and open my mind. Especially after the events of September 11, 2001 were hitting so close to home. This site helped so much." With Gratitude, (Vee Todd , Bristow, VA USA)
"Dear Dr. Bonnici – My eight-year old son wanted to let you know how much he enjoyed your seated meditation steps. He had never meditated before, and wanted some steps to follow. Thankfully, we [he was] able to follow your simple and clear steps. Although he knows that he is not meditating yet, he still was able to feel very relaxed after following your steps. Thank you for making these teachings available to us. Regards," (Nora and Cameron Ceh, York University)
"In these times of increasing violence and confusion your teachings open a window of hope for people."  (Marcos Arana, San Cristobal, Chiapas Mexico)
"As a Cognitive Behavioral Psychologist with a long background in spirituality it is refreshing to find a valuable resource…..in ways that others can use meditation as therapy and how they utilize the Mind, Body, Spirit connection. Thank you." (Peter Smith Wyoming, NSW Australia)
"As a young Lutheran, I have thought of so many questions regarding my religion and some of these questions have brought others in my church to think of me as a "non-believer". I believe in God and am grateful for each wonder he has created, but I have begun to realize that I cannot base my life and my faith on what others perceive as the "right" way….I really admire your views of how we are all connected. I have always believed that a deep unity exists within all of us and that we are not as different as we seem. You put that idea into words which were very powerful and meaningful to me. I look forward to taking the wisdom you share….and applying it to my life. I am now thouroughly curious about how meditation will affect my life. Thank you once again! Sincerely," (Angela, Rohnert Park, California, USA)
"Excellent teachings that should be investigated by all health practitioners." (Chris Jewell Hounslow, Middlesex, England)